Fake Reviews Can and Will Hurt Your Business. Don't do it.
You might have received and been tempted to try out one of these companies that "guarantee five-star reviews" on any platform for your business. Don't do it.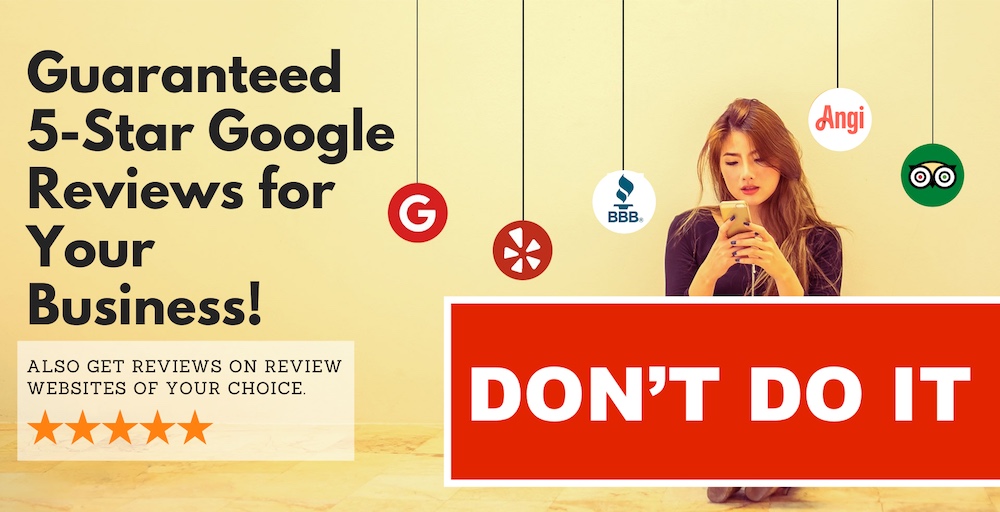 There are many of them out there. None are reputable.
The best way to get good reviews for your business is to provide the best products and services possible. Your favorite platform has resources that can help you also. Definitely check them out.
Although every platform is different, generally speaking, it's OK to ask for reviews, but never OK to pay for reviews.
Paying for fake reviews can harm your business in many ways. Paid reviews can be taken down since most platforms have robust tools in place to spot fake reviews. Thus you would be wasting your precious hard-earned cash.
But, in a worst-case scenario, you could get banned from the platform. This could prove detrimental, especially if the said platform is a large driver of new business.
Finally, you can never have enough reviews. Keep your foot on the gas and try to increase your review count since these are proven to help grow any type of business. Got 100 go for 200, and so on.
Keep doing well for your customers and they will in turn give you rave reviews.
Need help growing your business?
Our digital marketing experts are the best in town. We can help you grow with proven strategies and implementations of Search Engine Optimization, Search Engine Marketing, Web Development, Social Media Marketing, and more. Call the experts.