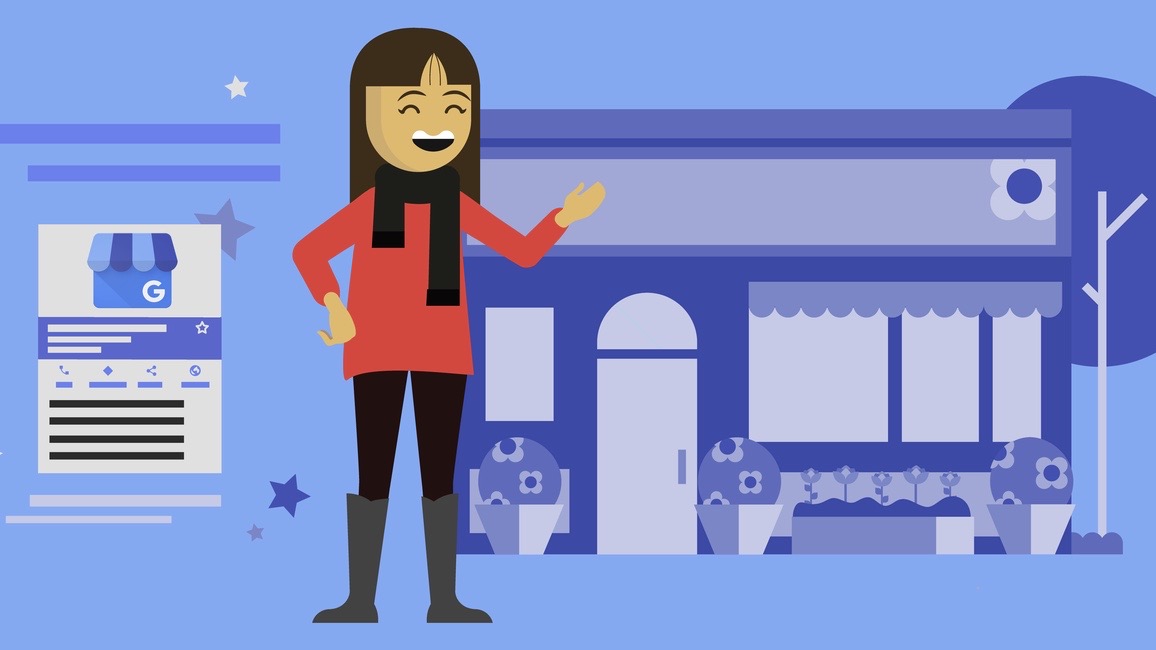 Google My Business Listing Guide
Google My Business is a free and easy-to-use tool for businesses and organizations to manage their online presence across Google, including Search and Maps. If you verify and edit your business information, you can both help customers find your business and tell them your story. With a Google My Business account, you get more than a business listing. Your free Business Profile lets you easily connect with customers across Google Search and Maps. A well-optimized Google My Business profile helps you engage with customers, improve SEO, and most importantly, helps grow your business. This guide is meant to help you optimize your profile as well as share any tips and tricks that will give you an edge over the competition. Learn how to use your free Google My Business to create listings that will stand out when customers search online.
Benefits of Google My Business
Manage your business Information – Manage the information that Google users find when they search for your business or the products and services that you offer. Businesses that verify their information with Google My Business are twice as likely to be considered reputable by consumers. When people find your business on Google Maps and Search, make sure they have access to information like your hours, website, and street address.
Interact and Engage with Customers – Read and respond to reviews from your customers, and post photos that show off what you do. Businesses that add photos to their Business Profiles receive 42% more requests for directions on Google Maps, and 35% more clicks through to their websites than businesses that don't.
Understand and Expand your Presence – Find insights on how customers searched for your business, and where those customers are coming from. You can also find information like how many people called your business directly from the phone number displayed on local search results in Search and Maps. When you're ready, you can create and track the performance of Smart campaigns to spread the word about your work.
Engage Customers with Google My Business
With Google My Business, getting your business information to stand out on Google Search and Maps is easier than you think. See how you can create listings that will help attract new customers and engage your current customers when they search for you.
OK, you're so excited about your new business and you want to make sure people find you when they search online. Your friend recommended Google My Business as a way to get your business online for people to see. But, how can Google My Business actually help you?
Google My Business helps you get your business to stand out on Google Search and Maps! You can use pictures, contact info, and more to showcase your business when people search online.
When you use Google My Business, you'll be able to easily manage your business listings online and on our mobile app, even when you have multiple locations. Just think of the time you'll save by being able to manage all of your locations from one app!
You can use Google My Business features to connect with your customers by responding to their reviews or to enhance your advertising efforts (if you use Google Ads For Business). This will be a great way to engage with your customers and share info about your business.
Use Google My Business to Share Information and Connect With Customers
With GMB you can share pertinent information, connect with you customers, and attract new ones. To do this make sure you complete all the fields available, and provide all information about your business. A complete profile is truly the key to success.
Share all contact information like address and phone number, and keep it consistent with your website as well as any other online presence you might have.
Update your business hours and service area.
Enter a brief description of your business: What you offer, what sets you apart, your history, or anything else that's helpful for customers to know. Focus primarily on details about your business instead of details about promotions, prices, or sales.
To make sure your listing stands out, add some photos and videos. Show what it's like inside and outside the business. Showcase your products and specialties. Employees, 360 photos, your business identity, logo, and anything else that customers might find helpful or interesting.
Create and share posts about any updates and promotions you run. Customers love seeing the monthly promotions when released, so this should definitely keep them interested. These will be visible across Google Maps and Google Search.
Depending on the type of business you run, complete the sections about the products and services you offer.
Do you have new product photos, hours, or menu items? Customers are looking for more than just a local listing. Your Business Profile on Google lets you feature the best of your business.
List Of Business Information You Can, and Should, Add to Your Google My Business Listing
Keep your business information on Google accurate and up to date by editing your Business Profile on Google. You can change information like your address, hours, contact info, and photos to help potential customers find you and learn more about your business. The following are some helpful tips for the types of information you can add or edit on your Business Profile. Note that Google may review your changes for quality before publishing them.
Business Name – Enter your business name exactly as it appears in the real world across signage, stationery, and other branding. If you change your business name after requesting a verification letter, you must verify your business again.
Category – Choose the category that best matches your business. All locations of a business must share a Primary category. Choose a category that's as specific as possible and representative of your main business. If you enter several categories, the category entered in the first field will be your primary category. You can choose up to 9 more categories. If you have trouble choosing a category for your business, choose one that's general. Keep in mind:

Do not use categories solely as keywords or to describe attributes of your business.
Do not use categories that match other nearby or related businesses, such as a business that's located inside your business's physical location, or an entity that contains your business.

Address – Enter the complete and exact address for your business location. Learn more about address entry guidelines. If you don't serve customers at your business address, leave the address field blank.
Service Area – If your business serves customers within a specific local area, enter your service area. Listing your service area helps customers know where you'll go to visit or deliver to them. You can set your service area based on the cities, postal codes, or other areas that you serve.
Hours – Add the hours your business is open (i.e. the regular customer-facing hours of operation for a typical week). For days when you have unusual hours, like holidays or special events, set Special hours. There's also an option for businesses that are open 24/7.
Phone – In addition to your primary business phone number, you can enter up to 2 more phone numbers (mobile or landline only, no fax)
Website – Enter your business's website. Make sure that Googlebot isn't blocked on your site. You've checked Search Console for any possible penalties to your site. Depending on your business category, you may see options to add additional links, like online orders, reservations, and appointments.
Attributes – Attributes tell customers more about your business (e.g. "Has Wi-Fi," "Offers outdoor seating," etc.). You can edit certain factual attributes (like outdoor seating), while subjective attributes (like whether your business is popular with locals) rely on the opinions of Google users who have visited your business.
Photos – Add manage photos of your business. There are multiple categories, including interior, exterior, team, 360 photos, videos, and more.
From The Business – Enter a brief description of your business: What you offer, what sets you apart, your history, or anything else that's helpful for customers to know. Focus primarily on details about your business instead of details about promotions, prices, or sales.
Opening Date – Add an opening date to your Business Profile to tell customers when your business first opened, or will open, at its address.
Menu/Services (limited availability) – Use the Menu and Services Editor to keep your menu items or services, along with their prices, accurate. Organize your menu by grouping items or services into sections. When customers find your Business Profile on Google Maps on their mobile devices, they'll see your items under either "Menu" or "Services" because those are available only on mobile apps. This feature is available to food and drink, health and beauty, and services businesses. All businesses in these categories and have existing third-party menus will have access to the Menu or Services Editor. Also, businesses using structured menus or service lists provided by third-party sources will see an empty menu or service editors in their Google My Business dashboard. If there are third-party menu sources, any changes to the Menu, Services, or Product Editor will delete them.
Check-in and Check-out Time (hotels only) – Hotels can add their check-in and check-out times to their Business Profile in Google My Business. This information helps customers know when rooms will be ready and when they must vacate. Owners with verified hotel listings can edit their services and amenities with the use of the "Hotel attributes" section in Google My Business.
Share an offer directly to your followers to show how much you appreciate their loyalty and keep them coming back.
Engage With Customers
Google My Business is an excellent way to connect and engage with current and potential clients. It's one of the best ways to get them to choose your business over the competition, and there's always a lot of that.
Respond to Reviews – It's great to know what her customers think about your business, especially considering your dedication to creating great products/services and a welcoming atmosphere. When customers leave reviews mentioning this, it helps your business stand out even more. Plus, with Google My Business, you can respond to the reviews that customers leave. You can thank them for a great review or address any concerns they might have. Finally, all businesses, once in a while, get some not so great reviews. Some may be more legitimate than others. Nevertheless, you should pay close attention to all of them and respond to each one. When you respond, it shows other potential customers that you're paying attention, actually care about what they have to say and want to make things better. Be honest, no matter how great you are, things can always be just a little bit better.
Communicate with Your Customers – Some customers don't want to call a business to ask for information — they like to send a message electronically. With Google My Business, customers can ask questions or send messages directly through the listing and you can respond to them without having to leave the page. Now, you have another way to communicate with customers.
Get Calls and Direction Requests from Customers – You will love the ability to get calls and direction requests from customers who see your Google My Business listing. There's a handy call button that appears when someone searches for your business. Since so many of your customers search using their mobile phones, this will be an easy way for them to get in touch. They can also request directions right from the listing, which helps them find you when they are driving or walking around. (all of this is free)
According to consumers, businesses that respond to reviews are 1.7X more trustworthy than businesses who don't (76% vs. 46%).
Promote Your Business Online and Offline
Make a great impression with free posters, social posts, window stickers, and more – all personalized with content from your Business Profile. Create your profile to get started. See Your Custom Designs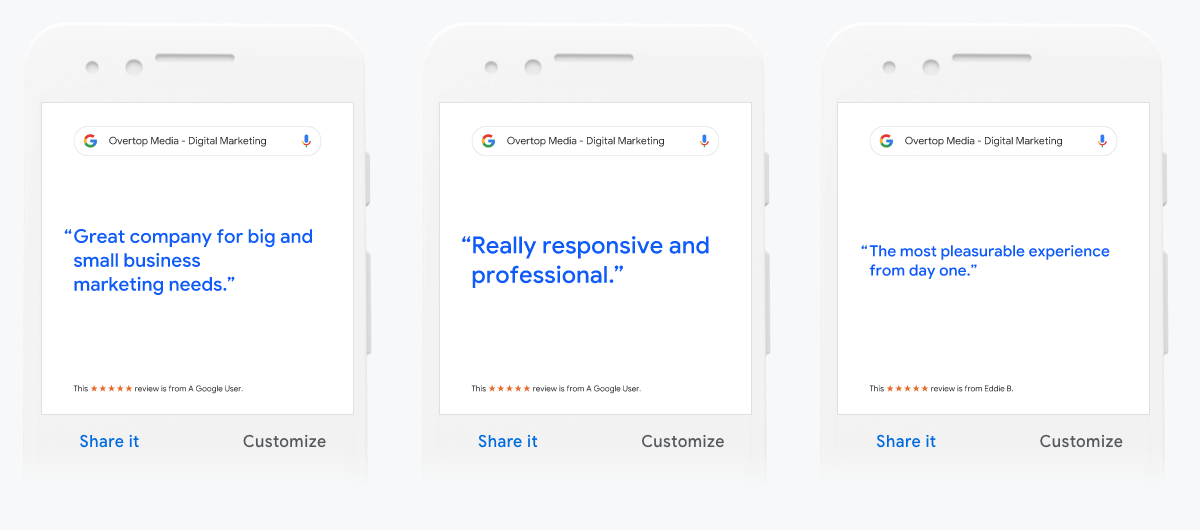 See How Customers Interact With Your Listing
You've been using Google My Business for a couple of months, and wants to see how customers are interacting with your listing. You can use the insight feature in Google My Business to track these interactions. There's a treasure trove of useful data.
With insights, you can review how her customers interact with your business listing and use the information to help make changes or improve it. First, use insights to see how many people saw your business online and the types of things they were searching for. The ability to see exactly what customers search for when they find you is extremely valuable. This data can be used for your Search Engine Optimization efforts and even marketing campaigns.
GMB insights can reveal additional information about your business locations that you may not know otherwise. Say you want to see how many of your customers are asking for directions to the areas where you opened your new shops. So, you check out the search report to view driving direction requests and realize that two of your locations have had fewer searches than your other locations. With this information in hand, we can create target advertising campaigns to drive more traffic to the locations that need extra help.
Customers can leave reviews and book services right from your profile. When you make it easy to do business, your business grows.
Make It Stick
Google My Business is a great way to keep your business information current, so customers see it when they are searching online. This is an ever-evolving tool that Google has been increasingly prioritizing. That means that you and your business should also. It will surely help your search engine optimization, digital marketing efforts, and your bottom line.